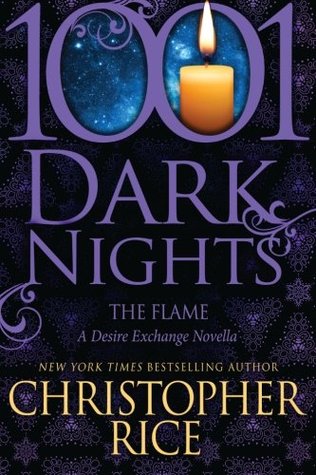 The Flame by Christopher Rice
Goodreads Rating: 4 stars
THIS is how you write a book that is MMF! Just going to put that out there. It made the sex scenes sexy and HOT. The book was well written and it made me super excited to start into this series!
I received this book for free from Christopher RIce at the RT Book Lovers Convention when my mother and I were having a lunch break. Mr. Rice happened to be having a lunch break in the same little cafe and my mom asked across the little diner style eatery and asked if he was a writer or reader. He stated he was a writer and then gave me an autographed copy of the prequel, The Flame, and the first book, The Surrender Gate, from his Desire Exchange Series.
I read The Flame pretty quickly. I found the storyline interesting and fresh. I liked the idea of a candle meant to catch your inner most desire and to provide you with that desire. I lived in New Orleans and worked just outside of the French Quarter and never once new of this little pop up Candle Store, so that was the only disappointment for me with this story.
I felt the interactions were sexy and believable. I think the dynamic of the friendships were interesting and well thought out. I like when romance and sexytimes are believable and most importantly HOT. What I also liked about this story, is that at no point, did they try to make another in this trio uncomfortable. They knew who would flake out and run, and did their best to keep tensions low and slow to keep everyone in a safe, comfortable bubble while they were trying to figure out what happened with this candle!
Loved it!